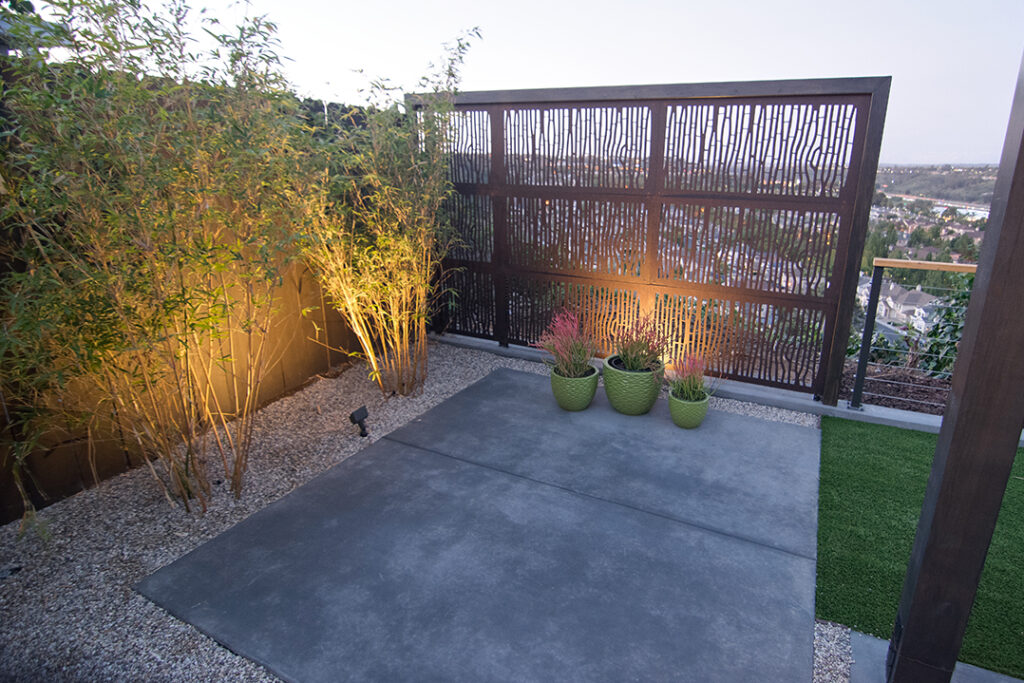 A "modern" landscape design doesn't have to translate to "expensive" and high-maintenance. Sure, the word might make you think of something shiny and new. But the simplicity of a modern landscape can make it quite budget-friendly in the installation process and in the long-run. That's thanks to defining features like clean lines, subtle accents, and overall breathable spaces.
For an opposite perspective, a chain-link fence and piecemeal patio composed of concrete and brick is not that. But that is where we started with this San Diego project. You bet it was a far cry from the client's request for a modern backyard made for entertaining—and built on a budget.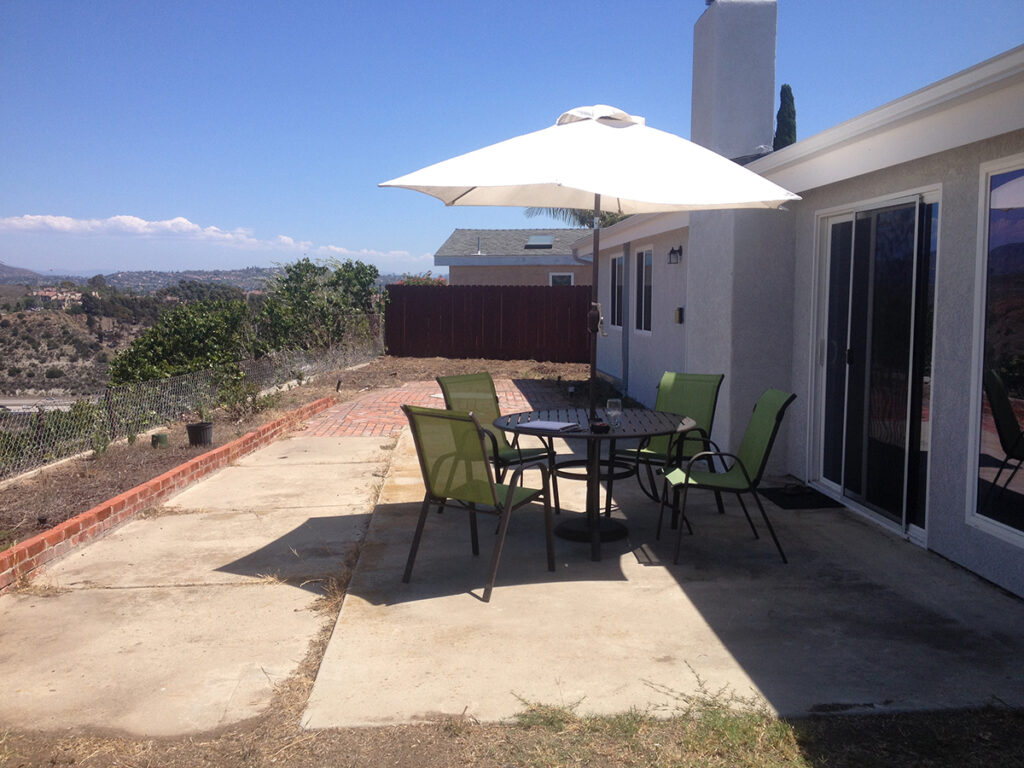 Keeping the design simple helped us maximize the space in this small yard, and concrete gave us an affordable and low-maintenance way to achieve it. You see, the material is versatile, making for an easy ingredient to get creative with. Take note of the concrete and wood benches that double down as an architectural accent here. Pretty cool, right?
Simplifying the hardscaping materials to just concrete, pebbles, and cedar drove home that modern, open feel. Not to mention, including turf and low-maintenance plants meant the overall upkeep is less expensive.
Let's look at more of the elements that modernized this backyard for the better.
Transparent fencing
Out with the chain-link fencing and in with a barrier that embraces the views! That was the thought behind this cable railing. The panel wall it runs up to, with its decorative slats, also gives you a sense of privacy but a peek into what's beyond the backyard. These panel walls are from J & W Lumber, stacked here three panels wide and three panels high to make for the perfect accent wall.
Spheres … er, salad bowls
So often clients consider these finishing touches an afterthought. In fact, they can bring some serious personality to a space. Believe it or not, we spent just around $100 on these spheres. That's because they're actually stainless steel salad bowls from IKEA that we welded together. Crafty, huh? They've proven to be relatively rust resistant, too.
Not your normal pergola
Overhangs characterize traditional pergolas. But a modern landscape isn't traditional. Which is why we squared off this structure instead and used less lumbar to the top the pergola, resulting in a cleaner, sleeker look. Finally, we sealed it off with shade fabric for an affordable means to screen out the sun.
Bringing the inside out
The lime green accents are inspired by the inside of the home, which is chockfull of the color in its décor. We incorporated it outdoors as a stripe in the coffee table and dining table, in the chairs, and also in the planters for a pop of color.
Low-maintenance plants = low cost
Low-maintenance plants are inherently budget-friendly, given there's lower upkeep. As to not overwhelm this small yard, I chose to use fewer plants and repeat them throughout: Phormium 'Amazing Red,' Chondropetalum tectorum 'El Campo,' Euphorbia tirucalli 'Sticks on Fire,' Crassula capitella 'Campfire,' and Bambusa multiplex 'Alphonse Karr.' The latter—used here to fashionably screen out the neighbors—could be considered the biggest bane. But it's a minor one at that since it's a clumping bamboo that just requires some occasional thinning of the stems and blowing fallen leaves.
Pour up a seat
An extension of the concrete flooring throughout the backyard, these benches are another permanent fixture. We formed the cubes with notches to easily attach the 4×4 cedar planks for the seating and installed LED lighting below the bench to make this area accessible after dark.