Blue concrete is expensive but might be worth it in the right applications
I know black and white and shades between those two are all the rage. And it can look wonderful for many projects, but I do think it's at the height of its popularity. It would have been simple to pick a grey scale & tan palette for this yard, but it was starting to feel overdone and quite frankly stale. So I was really excited when my clients were open to playing with some colors tastefully here!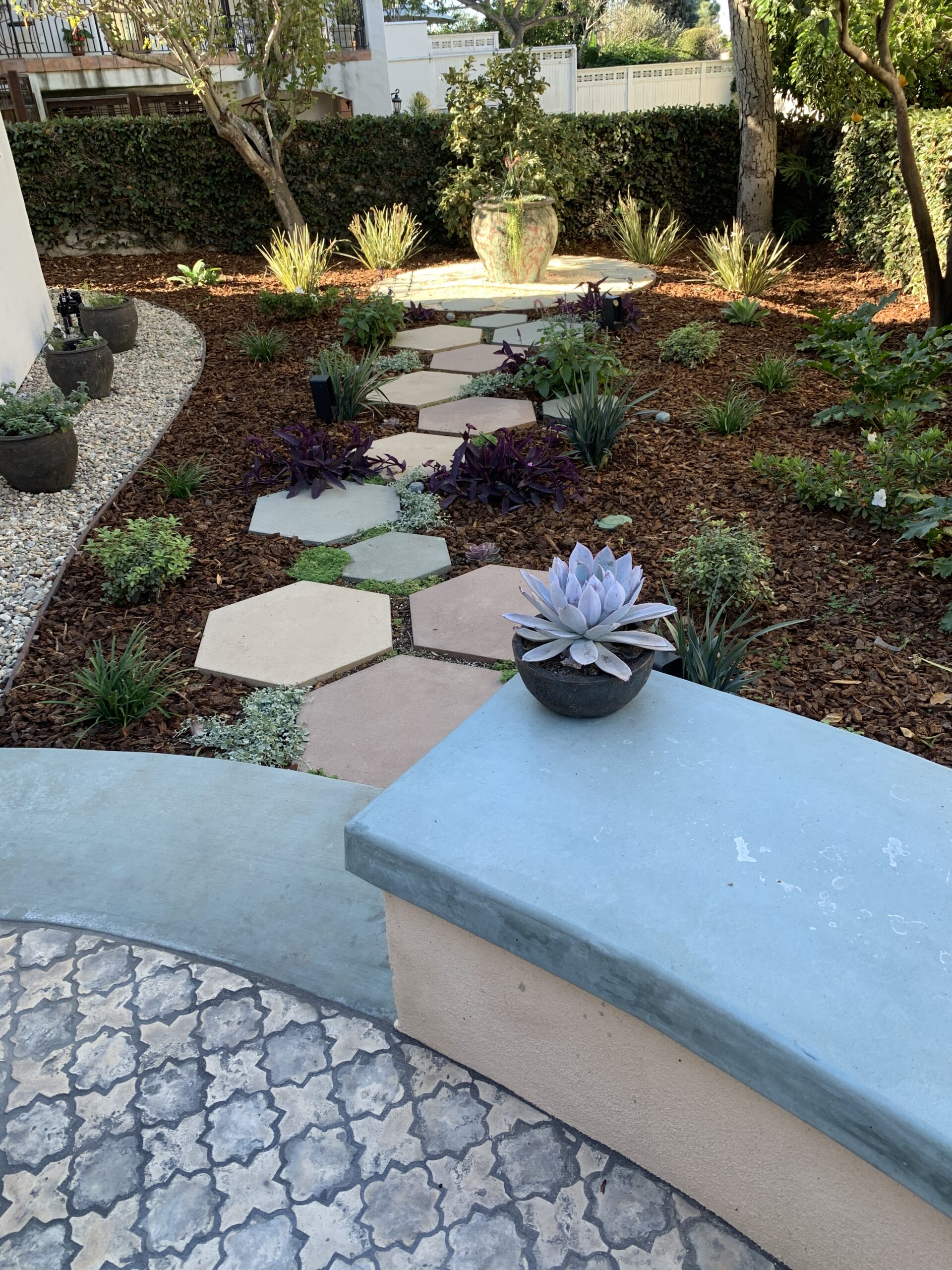 Below I will go through a few key elements in this project that brought together this odd shaped yard to compliment the spanish mission style home.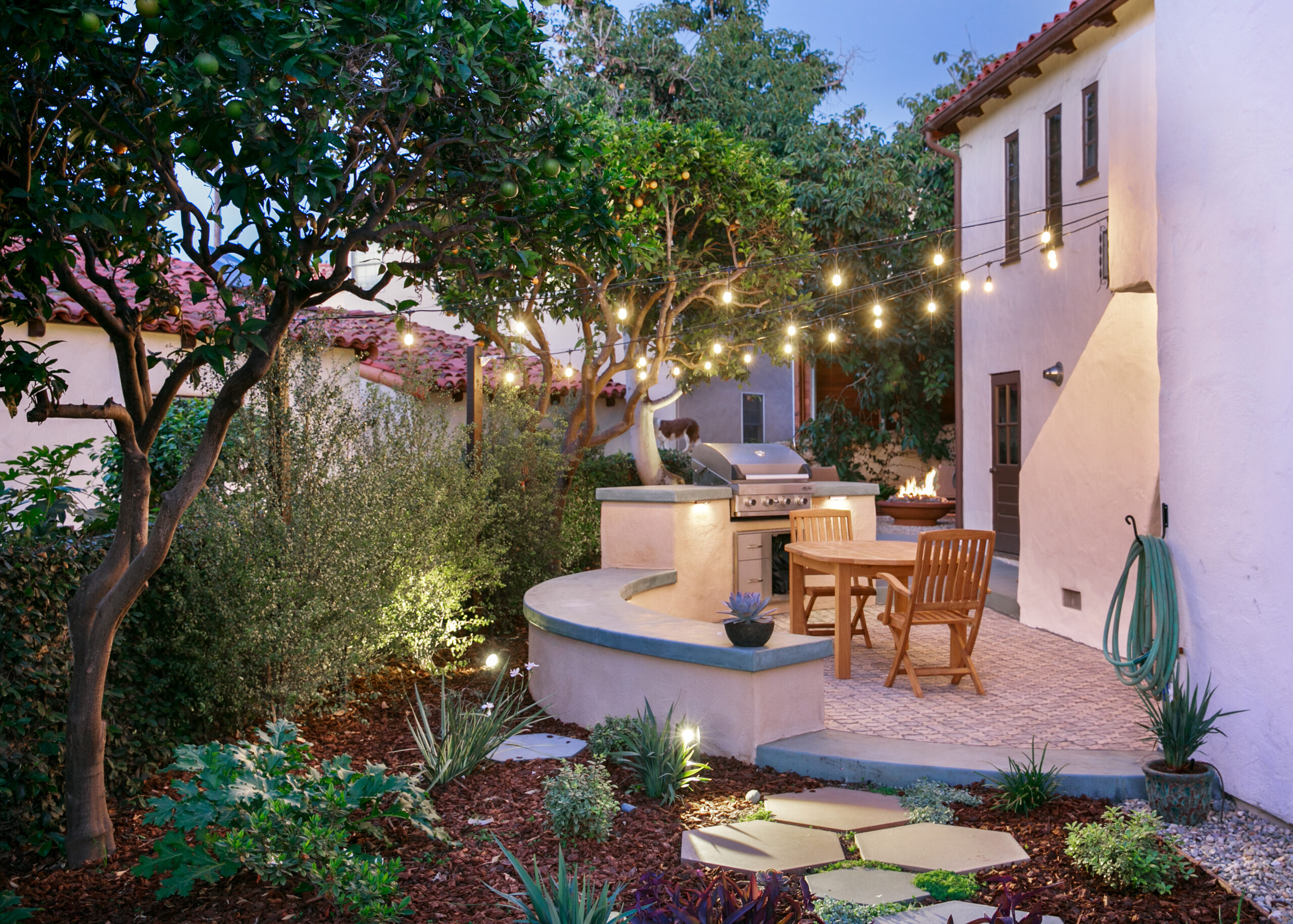 The Main Entertaining Area:
This yard started off as pie shaped and wasn't used at all by the homeowners. Trying to force a square patio would of given more "usable" space typically but it would also look ill fit. So I decided to go with a curved patio to create its own defined space in the yard.
To go with the spanish mission style home I found unique concrete tiles that are handmade giving this patio an old world feel. The 'hacienda' color is a light tan and it is contrasted with a blue grey that compliments the blue concrete seat wall, counter top & sidewalk. They are imperfect but that is part of the charm; we tried as best to keep the grout spacing as even as possible. We choose a darker grout to define the pieces. A lighter grout would of blended them more.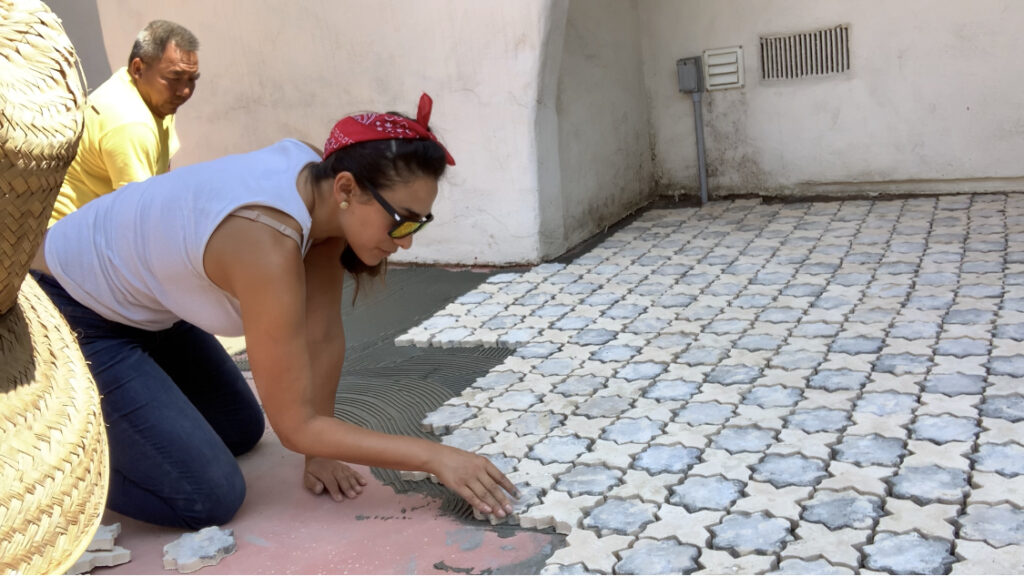 The Blue Concrete:
I knew I wanted blue concrete, specifically Euroblue 418 by Davis Concrete Colors. When I specified it I didn't realize how expensive it was but after I ordered my sample tiles, the client and I fell in love with how it pulled out the blue from the adjacent concrete tiles! We ended up ordering about 4.5 yards for the sidewalk, countertop, and benchtop, to achieve this color you need a ton of pigment. To try to cancel out the grey undertones of the concrete, we needed 21 lbs of pigment per yard at 3500 PSI (3 lbs per 94lb bag). This ratio changes based on factors such as the PSI and the base concrete color. Apparently, if you order a white base concrete (also very expensive) and with this pigment, it gives a truer brighter blue! Click here to see an example at the National Harbor Project in Maryland. That could be fun for a future project if I found the client with the budget and boldness!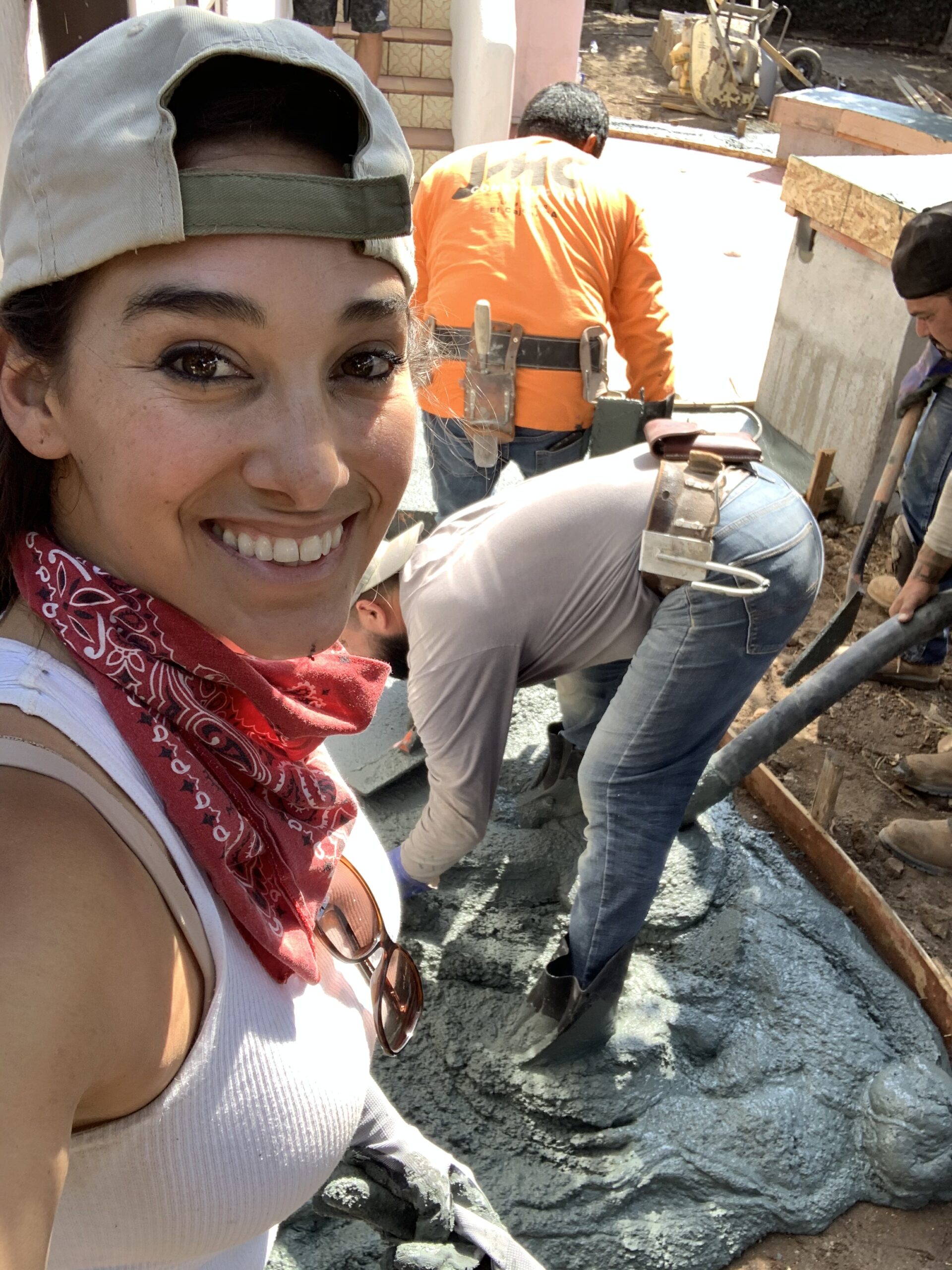 I am so glad I got the chance to use this blue, I haven't seen it used in residential applications, I assume due to the cost. However, I think this blue concrete pulled this project together unlike any other color could! There are other blue concretes available on the market, but it is my understanding that they are not as stable. This color Euroblue 418 gets its pigment from actual cobalt and should hold its color for a lifetime. We ended up sealing our concrete with 511 to protect it from stains and overexposure. See the Concrete pour on my Instagram here!
The Fire Pit Area
This corner of the yard did not have a direct line of sight to the rest of the entertaining area so I connected the two spaces with the blue concrete sidewalk and 4×4 hacienda-colored edging pavers. These edging pavers from Arto Brick also matched the color of the concrete tiles in the main entertaining area pulling these two spaces together.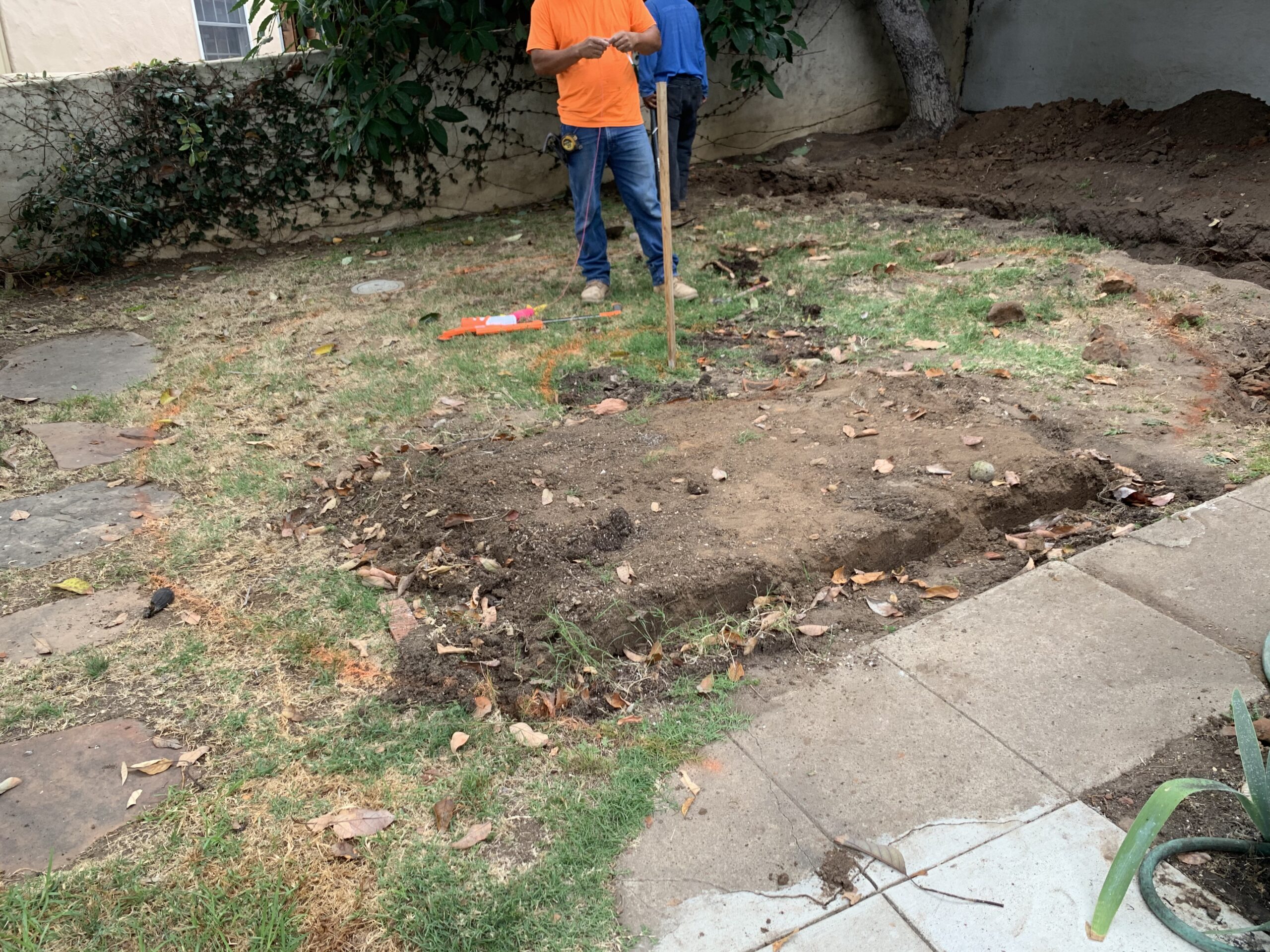 The client purchased low lounging chairs ~14″ tall so we decided to go with a custom metal firepit at 14″ tall to fit that low profile. If we went with a more commonly found 16-20″ tall firepit, our clients and their friends would suffer from chilly legs. Typically a propane or gas fire pit will put out heat at the height of the flame so for someone like myself who hates being cold, this should be considered! We also purchased a custom brass burner for a better and more natural flame. Lastly, we used Featherstone, a type of volcanic rock that holds a lot of heat. A quick tip: Pat Bernard enlightened me that having something for the flames to warm up, like a raised pile of Volcanic stone, metal art or ceramic logs is really what collect and emanates heat.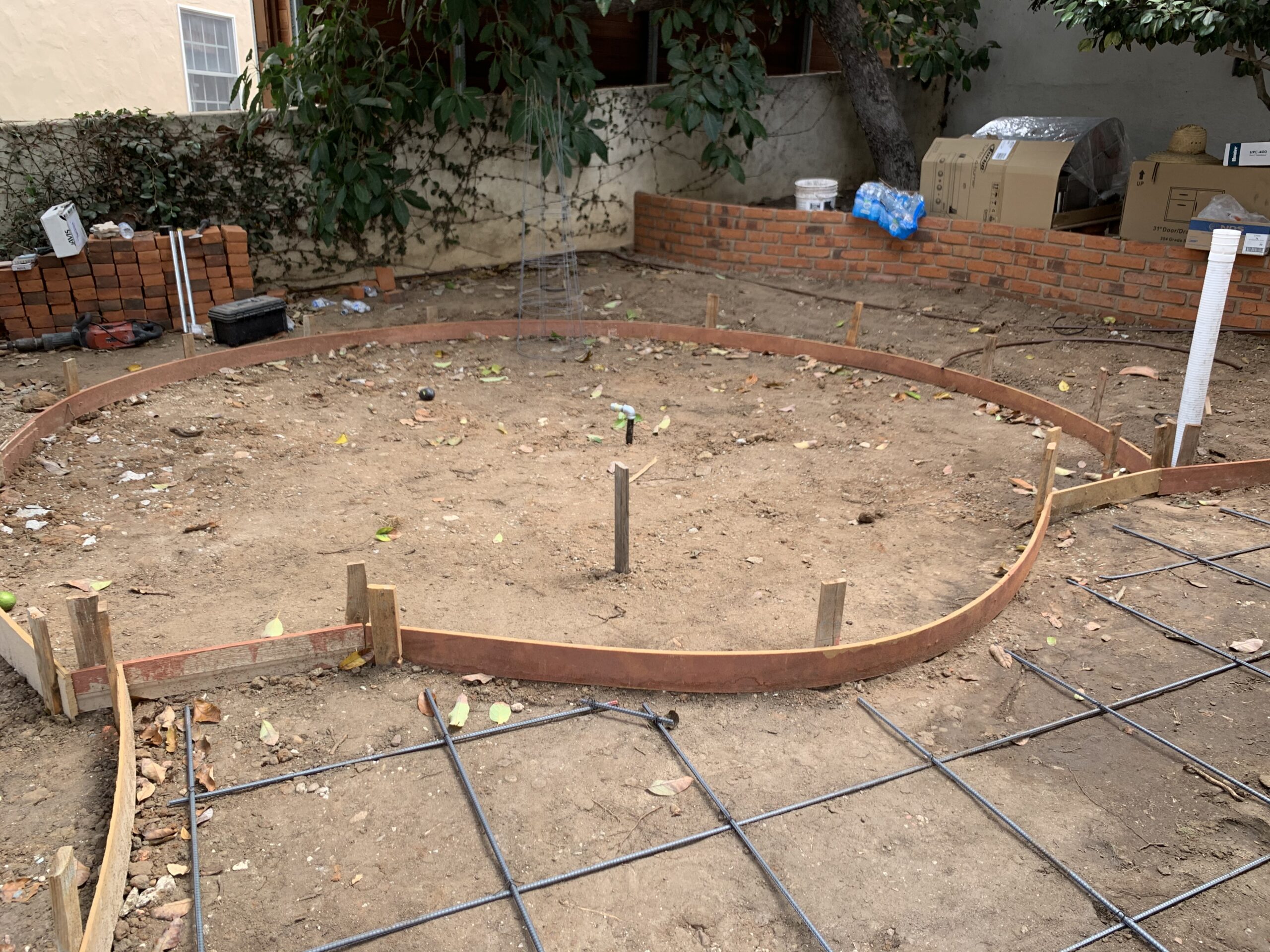 Choosing gravel as opposed to more concrete or pavers allows this space to be celebrated as a semi-formal or informal space which I think is important when transitioning from a formal space to the rest of the yard which is informal and organic. It blends the yard better in my opinion.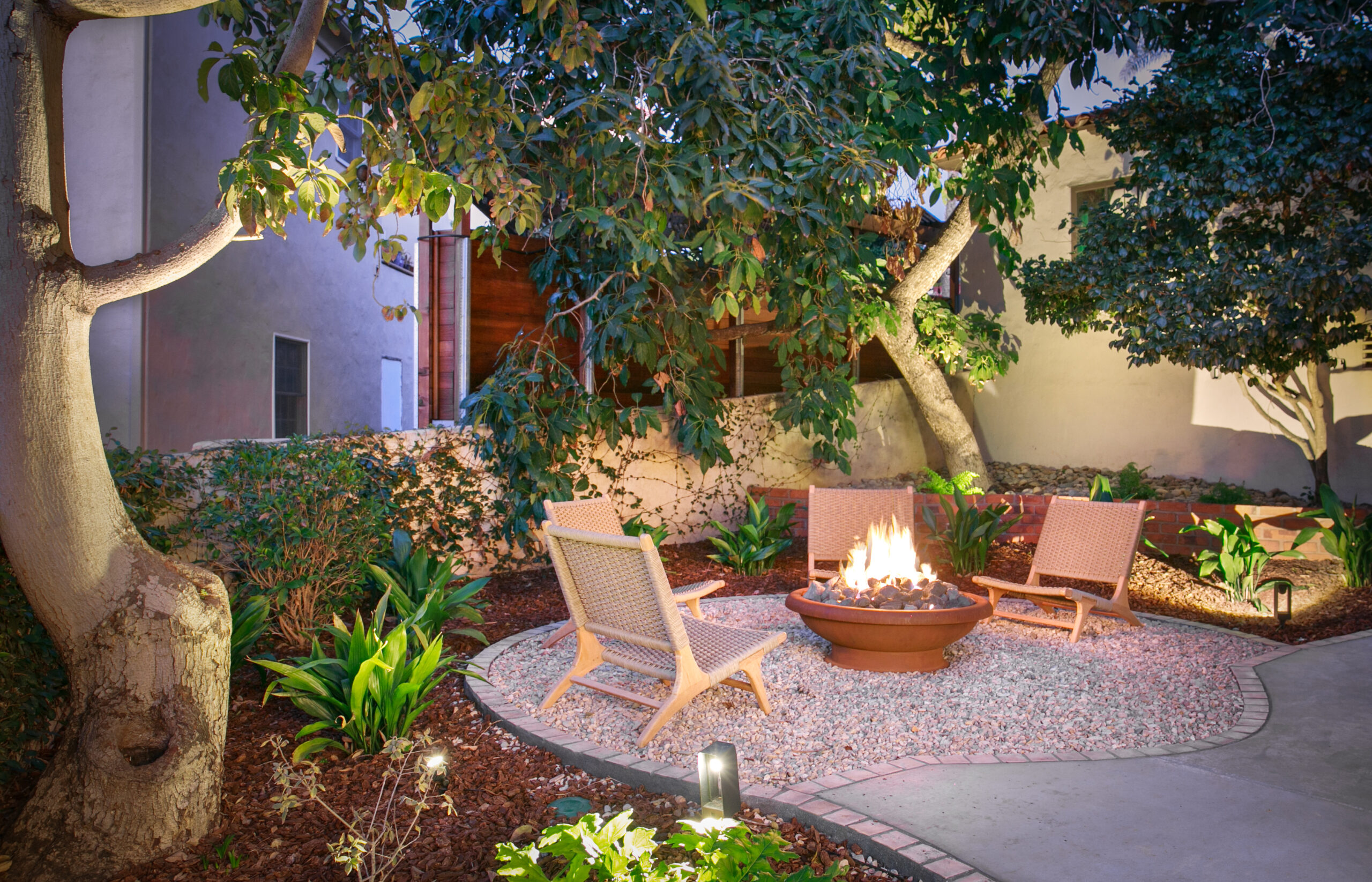 Hexagon Pathway
This was the first time I used these hexagon pavers and I am glad the client was open to using a handful of different colors. They are 2″ thick which is perfect for dry settings in the landscape. Which is a fancy way of saying putting it on the dirt. Of course, we leveled each one and I'd recommend grading out the whole area before placing them and then using 1/2-1″ of sand under to help level them out if needed.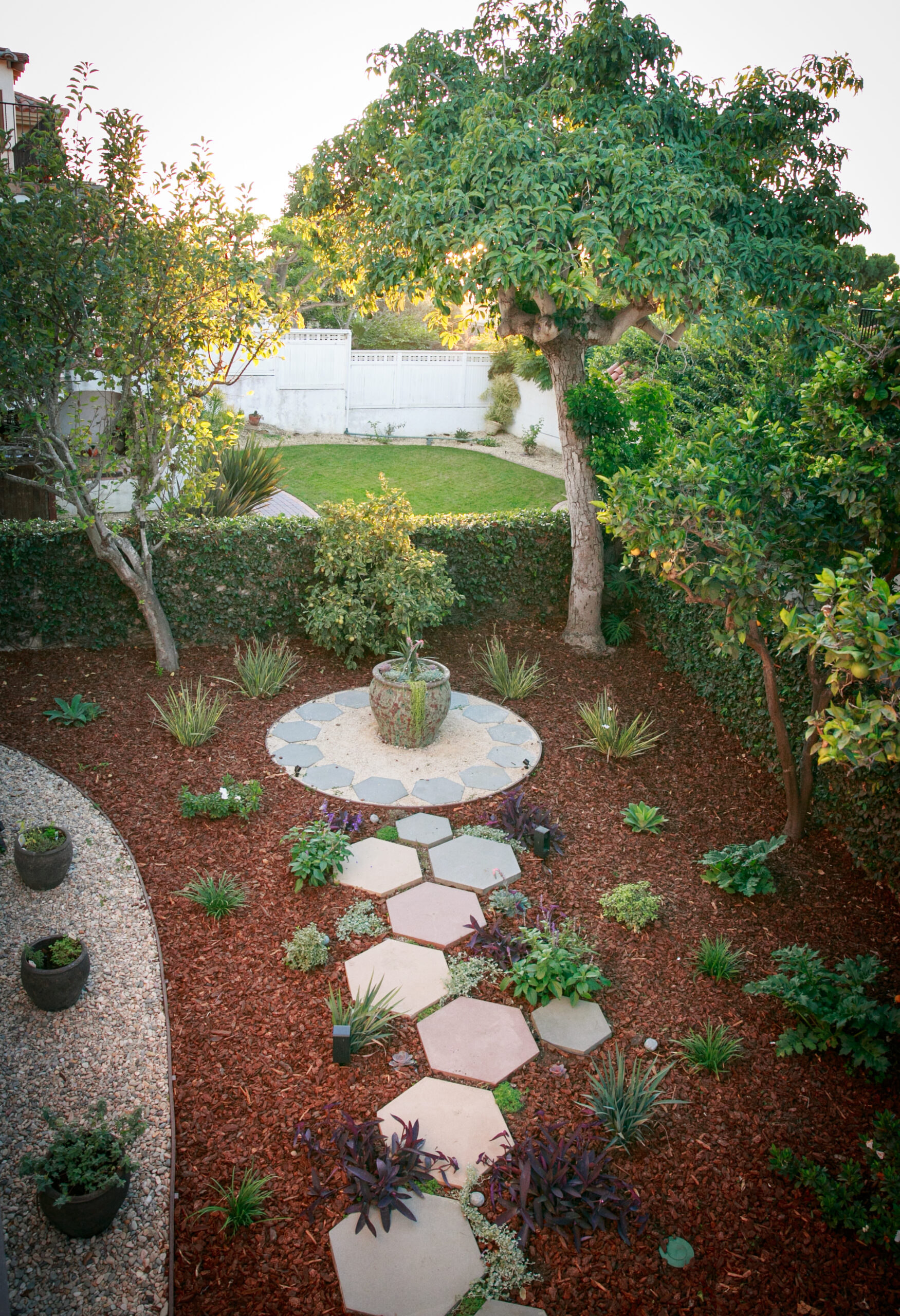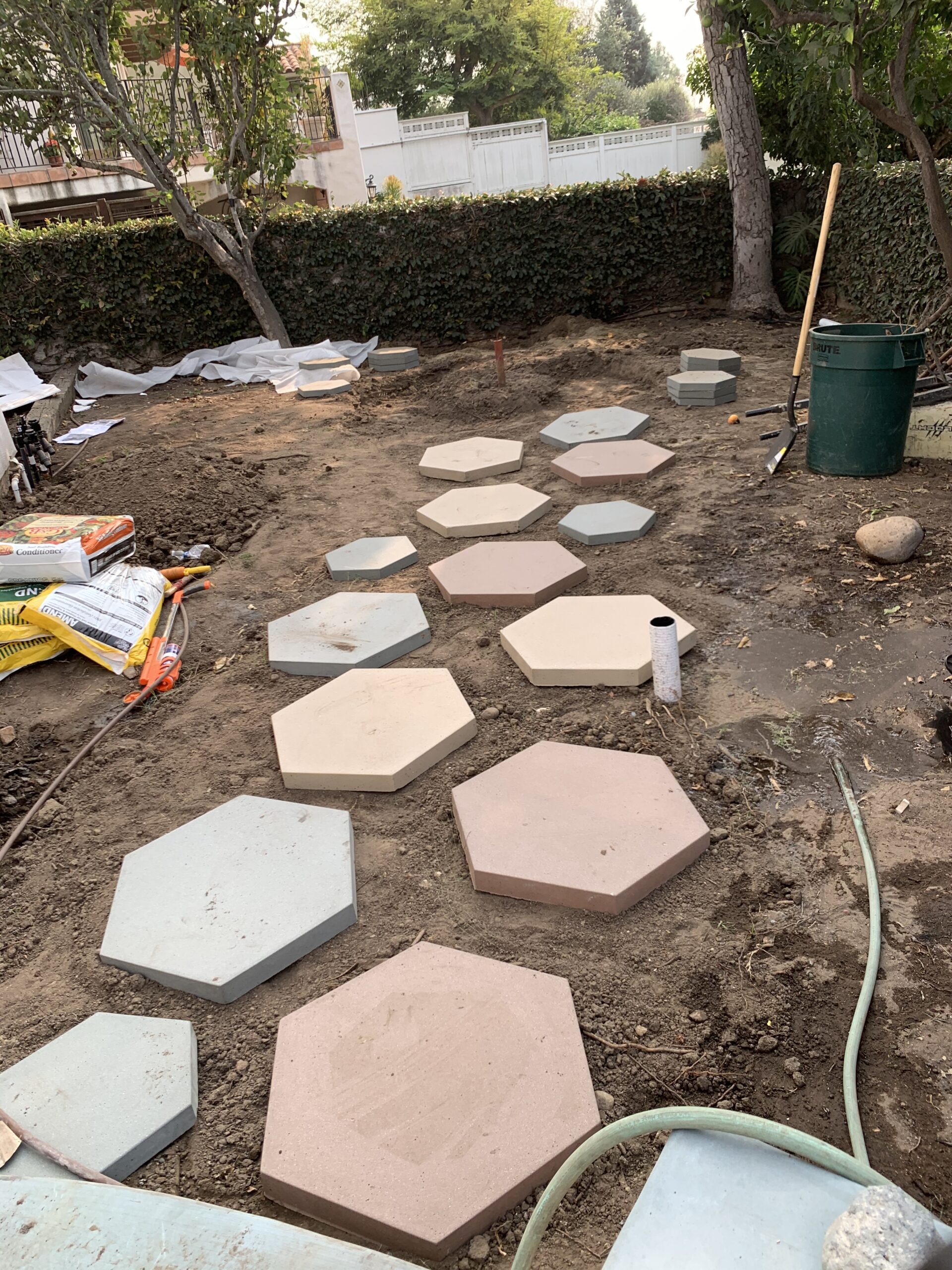 Dealing with a long yard, I knew people wouldn't use this far corner of the space often so I opted to create a focal point to draw the eye. Below is a video from my youtube channel that chats about this in more detail.
Thanks for reading and supporting my work with your shares, likes, and follows 😀 Check out another project of mine here 🙂